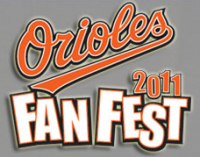 Orioles Fanfest usually tells me that the baseball season is quickly approaching. Can you believe that pitchers and catchers are in almost two weeks? Insane! Fanfest this season was quite different from the past years that the Orioles' held the event, this time around it was a pay for autographs (which a lot of people weren't crazy about) personally, it never really got under my skin and I thought the $15 fee for three or four autographs was pretty darn good considering the Phils charge $25 for two. I told some people this while I was waiting in line, and a lot of people got my point, but there was also a lot of people who were still mad about the fee.
I felt this season there wasn't a lot to do, other than wait in line for autographs and I thought the lines moved a lot slower than last season. I don't mind waiting in the lines, but sometimes I like to switch things up and do other events, and I couldn't really get into anything else. The lines were all over the place, from the promotion giveaways, autographs, family feud, bingo, etc. It was a pretty crazy day. I also got the season ticket passes from a friend, in hopes of maybe getting an extra Mark Reynolds autograph to send him, but I wasn't one of the first 250 in line. The entire thing was a little confusing though because people behind me I saw in the line to get the early autos, so after thinking about it maybe they gave out more when people first enter the first floor of the BCC. Either way, it was confusing.
I did get some nice autographs though...
- Jim Palmer - on a baseball
- Willie Randolph - Topps 2007 (Mets)
- Mark Reynolds - Upper Deck (D-Backs)
- Rick VandenHurk - Topps (Marlins)
- JJ Hardy - O's card
- Jason Berken - Weird little league card
- Bergy - Topps Rookie Card
- Jeremy Accardo - O's card
- Matt Wieters - SI cover
- Dick Hall - O's card
- Ross Grimsley - O's card
One quick note also...I love Nick Markakis, he is one of my favorite Orioles and favorite fantasy players to take, and one of my favorite players in baseball...BUT...he is without a doubt the worst signer I have ever seen from a current player. I was sitting drinking some soda and he walked off the stage (after the fan question session) and about five kids were walking after him asking for autographs and he ran to the exit while joking and laughing. I understand he has been signing at different stations prior to that, and I understand if dealer type people are asking for the autos, but a bunch of kids walking after you asking for autos and dashing for the exit is pretty bad. I mean, he's a big name on the O's but not nationally and it just rubbed me the wrong way. I've seen Howard, Utley, and Cole sign at games daily and sign quite often, but out of all the O's games I've been too (7-11 for the last four years), I never seen him sign other than FanFest. I don't know why I got into that...but I just thought I would share that info and see what other people think.
Fanfest 2011 was a lot of fun and I crashed afterwards sleeping for 11 hours staright. I'm so looking forward to this season with Buck's Birds!!